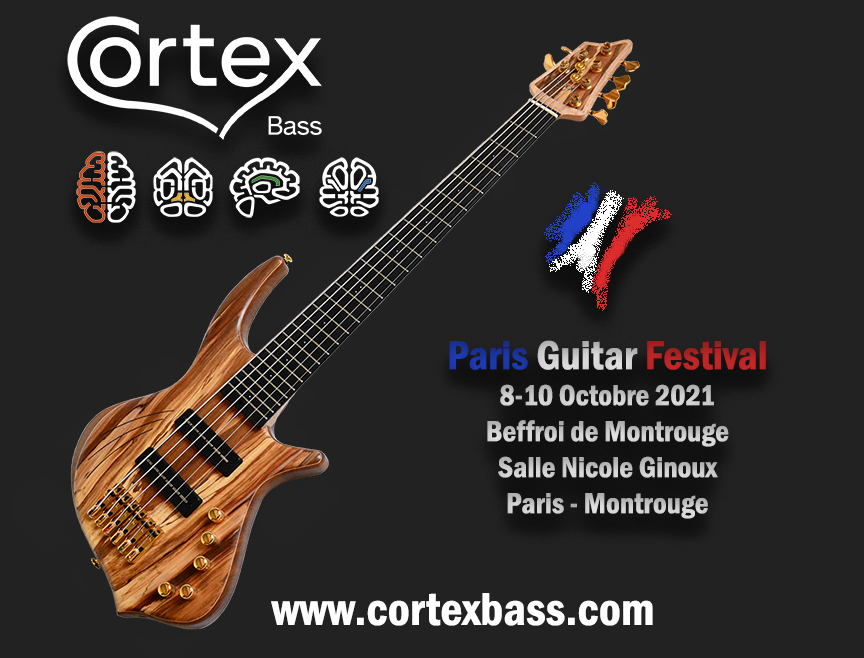 Come and see us in Paris at the Paris Guitar Festival, from the 8th to the 10 of October 2021, we'll be thrilled to meet you.
On Saturday 9th, we will have two solo demo performances for your listening pleasure:
Paul Lairat will also exhibiting with us, so you will be able to admire his own work and ask all the questions you want about the Cortex Bass building process.
See you soon in Paris for our first french exhibition ever… For all practical infos, click on the links above.
Pierre Camilleri – 06.09.21
Musicoff Interview, 10.07.21, Guitar Show Italia,
with Thomas Colasanti and Alex Lofoco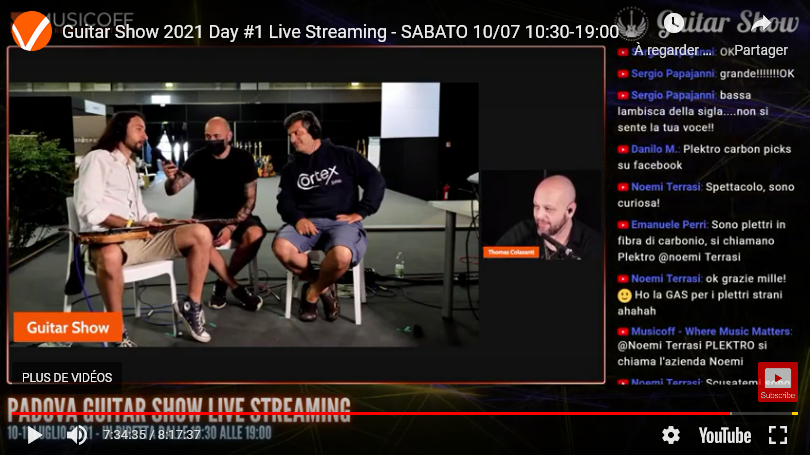 First of all, a big thanks to Thomas Colasanti and all his Musicoff mates for consenting to an Italo-english interview, to Alex Lofoco for playing the Napoleon with such talent, and to Luca Friso, organiser of the Guitar Show Italy in Padova for making all that possible.
I had a great time in Padova, and take this opportunity to thank all the music lovers that visited the fair, tested our instruments and also those who had very nice words for us. I can't wait to see you all next year.
… and, of course… congratulations to the new European football champions…!!!
Pierre Camilleri – 13.07.21
Come and see us at the Padova Guitar Show…! LIVE…!!! AT LAST…!

Our first exhibit this year… at last…!!! and our first ever exhibit in Italy. It takes place on the 10th and 11th of July in the Fiera de Padova. You can access all details on their website. In the meantime, never hesitate to contact us , should you have any questions
Pierre Camilleri – 15.06.2021
Napoleon 4 & 5-string Review by Bass Player

The Napoleon's first written magazine review on "Bass Player" January 2021 issue: You'll fnd a complete report on our 4-string, 5-string, Aguilar DCB associated to OP3 preamp and Duvoisin split coil humbucker associated to the Duvoisin preamp. We couldn't help transcribing the following comment by Stuart Clayton:
"Build quality is of an exceptionally high standard across both instruments. Fretwork is faultless (…) The finishing is impeccably smooth, making the instruments incredibly tactile."
The rest is for you to read and make your own mind, either by cliking on the above gallery or purchasing "Bass Player", January 2021.
A huge thank you to Joel McIver and Stuart Clayton for having taken the time to review our babies…!
Pierre Camilleri – 31.12.2020
6-Strings, High Gloss finish, Colour & Epoxy

On this Christmas bass batch, some new models and finishes by Cortex Bass:
The Six-string is finally here, fretted or fretless, in two superb finishes (Apple exceptional top & Ash top red burst), with one more on the way… a surprise for the end of the year.
High gloss finish is a new option now available, particularly fitting for colour bursts.
Epoxy coating on the fret board is offered for fretless models.
There will be a few more surpises at the end of this year, but that will be yet another story.
Please do stay safe and do not hesitate to surf on our "Shop" where you can check out all our models in full detail.
Pierre Camilleri – 07.12.2020
Sneak Peek on the next Bass-batch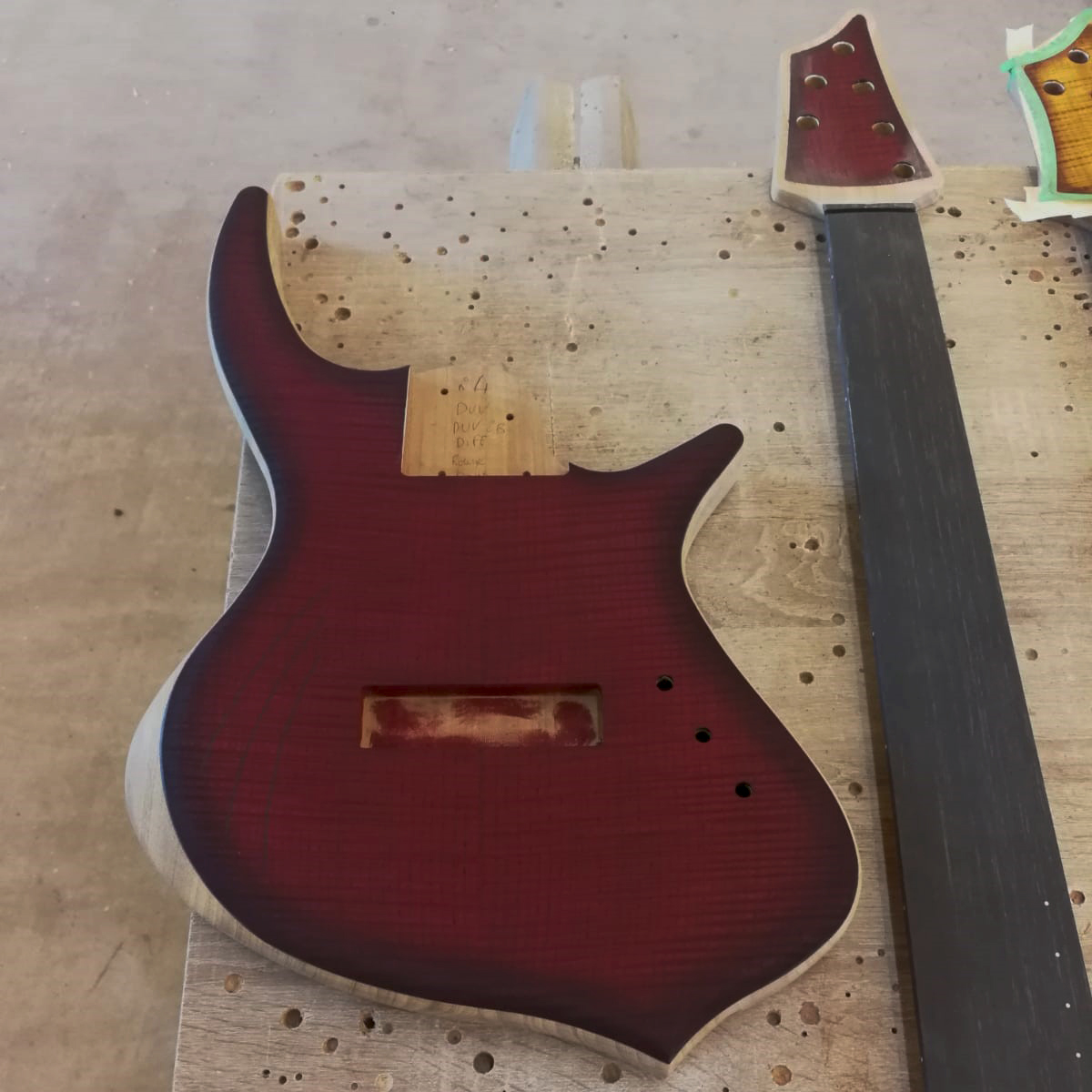 A six-string fretless announcing two new milestones… Yes we're finally introducing the six-string (fretless and fretted)… and yes we're into some more colour and new materials. Check the Burgundy red on that beautiful flamed and veined ash top… Soon available on our website (around mid-november).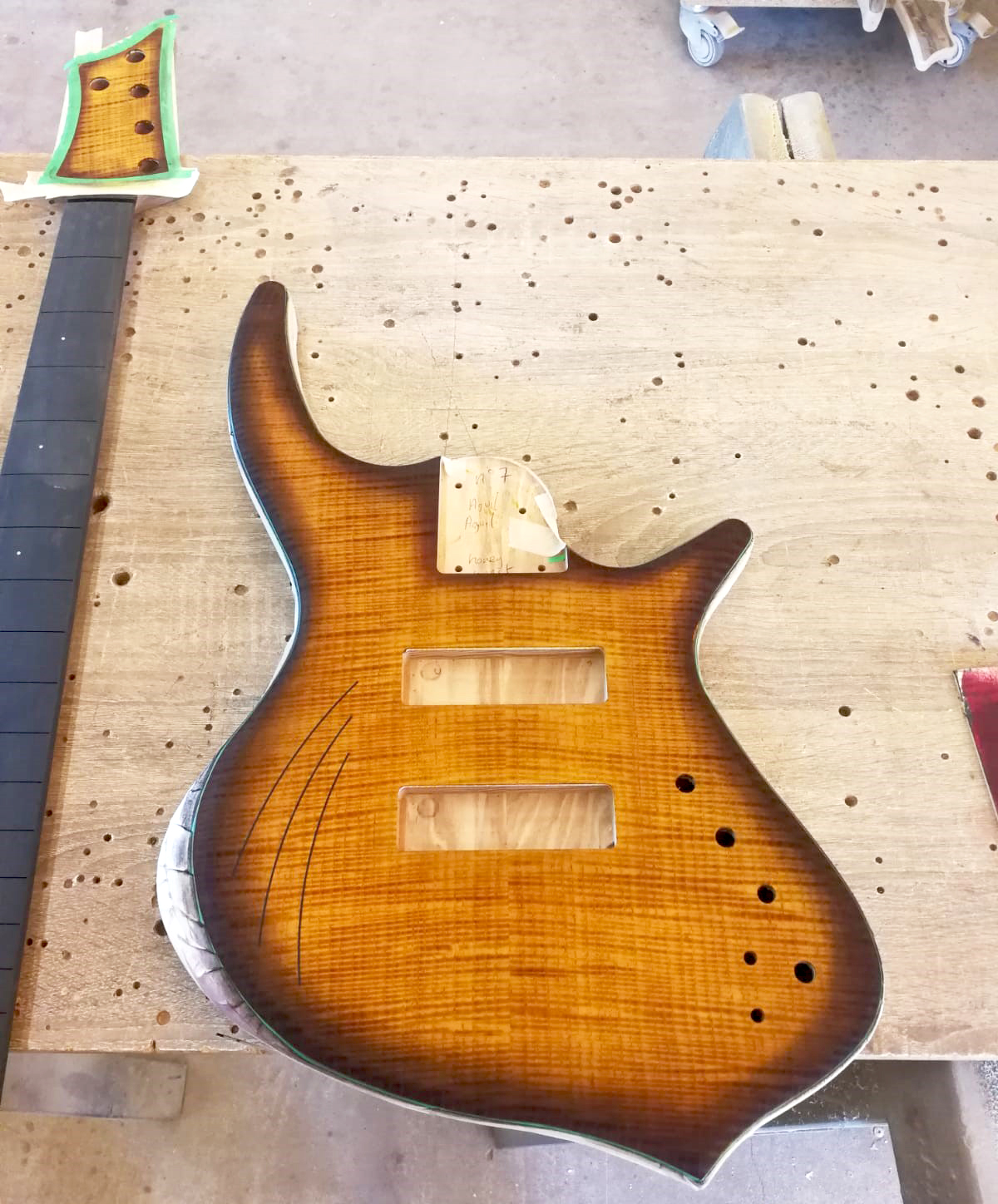 A five-string aguilar powered fretted honeyburst… Ash top, veined and flamed, quite the looker! Soon available on the website (around end of November).
You're welcome to go check all the videos Remco Hendriks sent us on our youtube channel. He plays a Napoleon Standard bass, set with active electronics, namely Nordstrand Audio Big Blade pickups, associated to a Glockenklang 3 band preamp, with a passive push-pull switch on the volume control dome.
Simply click on the youtube symbol in our footer or here.
Pierre Camilleri – 13.08.2020
During these tough times, we have seized the opportunity to refresh and update the Cortex Bass website with the following features:
The "Wall of Bass", is to find in our "Shop" section and showcases all the basses we have produced, whether available for sale or already sold. By clicking on the bass of your choice, you are lead to a detailed presentation of your chosen one.
All basses available for sale now have a PayPal checkout, under the description allowing you to purchase the instrument in the following way:
Residents of the European Union are indicated a price including the VAT, and they have the choice to insure the shipment. Shipment costs are complimentary in the EU.
Residents of Switzerland are indicated a price excluding VAT and custom duties, but they can choose to insure the shipment. Shipments costs for Switzerland are also complimentary.
Residents of the USA are indicated a price excluding local sales tax and custom duties. The price includes shipment costs and gives the client the choice of insuring the shipment or not.
Finally for the rest of the world, the same rules apply than for the US residents… There is so much you can offer with a PayPal button, so if you live not so far from France, just drop us an e-mail and we will calculate adapted shipment costs for you.
For those who have the patience to wait… we have published our pricing model, allowing you to customize your bass. We generally need 1 to 3 months to fulfill your dream…!
Of course, you can find all this in English, French and German… just use the language switcher on the top right hand corner of our website.
In our footer, you will also find updated General Terms and Conditions, as well as an updated Privacy Policy.
We thank you for following our work in which we take great pride, and hope that you will stay safe and keep playing.
Pierre Camilleri – 19.05.2020
CORTEX BASS now presenting the first FRETLESS models
In these testing times for all, we just wanted to warm the atmosphere with a new model: The Napoleon Fretless.
Here you have it in a 5-string deluxe lined version, a beautiful curly redwood top (with matching headstock), equipped with a single, but very powerful Nordstrand Big Blade that is associated to a Glockenklang two-band preamp.
The general specs remain the same, with the exception of the single pickup, and a slight stylish effect at the end of the fretboard.
Soon to be added to our "available basses" section, with a few new fretted and fretless friends.
We wish you all the best for the months to come, as some would say, "may the force be with you" !
Pierre Camilleri – 31.03.2020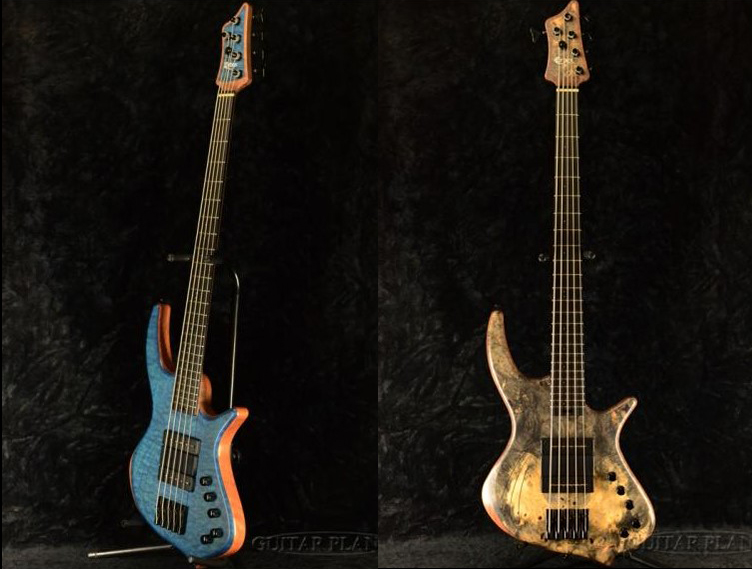 CORTEX BASS now available at GUITAR PLANET JAPAN
Cortex Bass is very happy to announce that our Japanese friends can now find our basses in the one and only Guitar Planet in Chiyoda-Ku, Tokyo.
Now available on site are two Napoleon Deluxe 5-string basses, one in an unusual quilted maple blue, and the other in a particularly figured buckeye burl.
These two beauties are equipped with Nordstrand big blades for power, bridge diffusors for increased sustain and finger ramps to enhance your playing experience.
Truly two unique instruments the details of which you can check on the Guitar Planet website.
To test the basses, the address and contact of Guitar Planet are:
Guitar Planet
2-4-5 Kanda-Surugadai
Chiyoda-Ku, Tokyo 101-0062
Tel: +81-3-5577-9711
bass@guitarplanet.co.jp
Pierre Camilleri – 19.03.2020
CANCELLED DUE TO COVID-19 OUTBREAK
Cortex Bass will be exhibiting at the "Salon de la Belle Guitare" on the 20th until the 22nd of March 2020, in Paris (France). We will be thrilled to meet you there to check out a few new surprises.
The dates and opening hours:
Friday 20th from 4PM to 8PM
Saturday 21st from 11AM to 8PM
Sunday 22nd from 11AM to 6PM
 The address is the following:
Beffroi de Montrouge
2 place Émile Cresp

92120 Montrouge
Subway No. 4, "Mairie de Montrouge" stop
Pierre Camilleri – 20.02.2020
NAMM Show 2020 – Thanks to Tom Bowlus and Bass Gear Magazine for this interview on Cortex Bass.
Pierre Camilleri – 15.02.2020
NAMM Show 2020 – Thanks to Bass Musician Magazine and Raul Amador for this interview on Cortex Bass.
Pierre Camilleri – 10.02.2020
NAMM Show 2020 – Thanks to Mike DiMattio for this interview on Cortex Bass (a bit slow and stuttering for my part… t'was my first! Sorry!) and especially for his comments on the review of the bass (https://mikesgig.com/cortex-bass-company-launch-at-namm-2020/).
Enjoy… next show will be in Paris (ahhh l'Amouuur tooouujoooours!) 20-22nd of March. More info coming soon.
Pierre Camilleri – 08.02.2020
NAMM Show 2020 – Thanks to all those who came by to see us, we were thrilled that you took the time. A special thanks to Remco Hendriks and Alex Lofoco for their inspired demos, to Étienne MBappé who took the time to come by and give us his thoughts on the bass, to Robert Harper for reviewing the bass and just being himself… and to Paul Lairat for being such a brilliant partner in this new brand. To all those who stopped by, a zillion thanks and we look forward to seeing you next year or during some European bass/guitar shows.
Pierre Camilleri – 24.01.2020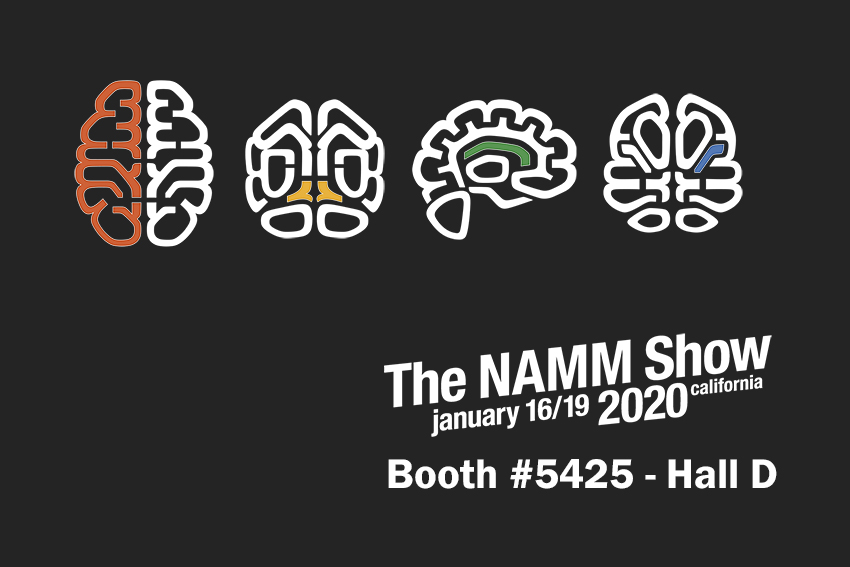 CORTEX BASS GmbH to exhibit at NAMM 2020
Cortex Bass is proud to announce that it will present its Napoleon model at NAMM 2020, between the 16th – 19th of January at Hall D, Booth #5425.
We will provide you with a feeling for the wide variety of wood, preamps and pickups that you will find on our basses. You're welcome to try them all and see what suits you best.
Remco Hendriks will also be doing a few demos for us, on our booth as in other venues in Hall D, mainly. Time schedules will follow.
We will be right next to Paul Lairat, who can answer all very specific questions relative to the assembly and finish on the Cortex Basses.
All in all, we really look forward to meeting you all there.
Happy Holidays, and see you in January.
Pierre Camilleri – 22.12.2019